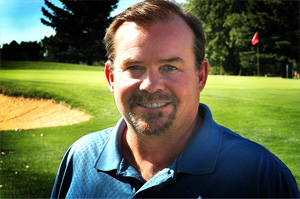 Hello, and welcome to the Miller Design website. I'm Mark Miller, principal of Miller Design. Please read below about the influences, events and personal interests that led me into golf course architecture.
Growing up in Colorado, I was lucky to have two wonderful, positive influences in my life that steered me in the direction of a landscape architecture degree, and eventually to choosing golf course architecture as a career.
My father has always had a knack for having fun, and a great love for the outdoors. I was impressed by how his passion for fishing, hunting or hiking intermingled with his career in parks and recreation and parks design. It seemed like the ideal way to go through life, and he taught me that it is possible to make a career that revolved around something I enjoyed.
In my early teens, my grandfather from Montana introduced me to golf and I was instantly hooked. I'd spend summers with my friends hanging out at the local courses. Eventually I started playing new courses and watching PGA events on TV. I was amazed at how Pebble Beach, and other courses, were so creatively routed through stunning native environments, with wildlife and breathtaking views. That was almost as thrilling to me as crushing a perfect drive down the middle of the fairway, (almost).
While studying Landscape Architecture at Texas Tech University, I was fortunate enough to meet the talented and prolific golf course architect, Jay Morrish. A senior class project had taken us to Colonial Country Club in Fort Worth, Texas where Mr. Morrish happened to be working at the time. He met with our class, and I finagled my way into walking the course with him the next day. It was my first introduction into the art of designing golf courses from a true master.
My first opportunity came in the late 1980's, working with the brilliant design team of Robin Nelson and Rodney Wright, located in Honolulu, Hawaii. Golf was booming during this time and for the next ten years we worked on projects in the Hawaiian Islands, the U.S. Mainland and many countries throughout the Pacific Rim including China, Malaysia, Indonesia and the Philippines. Nelson & Wright became known for introducing local exotic culture into their golf course designs, and I gained a magnificent amount of experience working with this subsidiary of Belt Collins, a multidisciplinary resort design firm.
I believe that the greatest golf courses in the world are creatively routed, taking advantage of the existing resources and features of the site, and built in harmony with the natural environment. I adopted this philosophy early in my career, but it became a great deal more apparent to me when I took an extended trip to play and study some of the great courses in Ireland. Walking the fairways of Royal County Down, Ballybunion, Portmarnack, Lahinch and others, was like filling in the missing pieces of a puzzle, or taking a basic class that was missing from the college curriculum. The origins of golf design and the experience of playing on the links was no longer a mystery. Witnessing first hand the scale of the natural dunes, and the physical and mental battle posed by the winds, grasses and bunkering was a humbling yet valuable lesson, and reaffirmed my beliefs.
I began doing business as Miller Design in Seattle, Washington in 1999. I have now come full circle and find myself living back home in Colorado. Although I have established Colorado as headquarters for doing business, I continue to be affiliated with my associate office in Seattle and travel there on a regular basis to serve my Pacific Northwest clients. Designing golf courses has been very rewarding over the years, but I have found the business of developing working relationships and friendships with clients and fellow consultants in this business to be just as rewarding.